Hola mis amigos: A VUELO DE UN QUINDE EL BLOG., la Agencia Espacial NASA, está monitoreando el movimiento de la Corriente del Niño, más conocida en el Perú como "Fenómeno del Niño", NASA, con la ayuda del satélite NASA's Earth Observatory, ha observado que efectivamente esta corriente ya está en franco crecimiento.
NASA, nos dice: "
Cuando los científicos
declararon
marzo 2015
que las condiciones
de El Niño
se habían
desarrollado
en el Océano
Pacífico,
el consenso fue que
el evento
era demasiado débil
y demasiado
tarde para tener
mucho efecto en
América del Norte.
Pero en los
últimos meses,
el agua caliente
se ha
chapoteando
en el
Pacífico occidental
hacia
las Américas
y El Niño
se ha fortalecido.
Las aguas superficiales
han crecido
significativamente
más cálidas en
el Pacífico central
y oriental,
y las condiciones
se han convertido en
algo más fresco
y más seco
en el oeste.
A finales de
julio de 2015,
los científicos de
la NASA y
otras agencias
comenzaron a
ver algunas
similitudes entre
las condiciones actuales y
el desarrollo de la
potente
fenómeno de El Niño
de
1997-98....."
NASA, agrega:

"No hemos visto una señal de este tipo en el Pacífico tropical desde 1997", dijo Bill Patzert, climatólogo del Laboratorio de Propulsión a Chorro de la NASA.

"No es ninguna apuesta segura de que vamos a tener un fuerte El Niño, pero la señal es cada vez más fuerte.

¿Qué ocurre en agosto y octubre debe hacer o romper este evento ".

Los mapas en esta página ofrecen vistas de la NASA de las condiciones del océano Pacífico.

En la parte superior de la página, se puede ver instantáneas de las anomalías de la altura de la superficie del mar promediadas en cuatro momentos diferentes desde marzo de 2015. Las sombras de rojo indicará donde el océano se situó por encima del nivel normal del mar porque el agua más caliente se expande para llenar más volumen (expansión térmica)

.

Tonos de azul espectáculo donde el nivel del mar y las temperaturas inferiores a la media (contracción térmica).

Las condiciones normales del nivel del mar aparecen en blanco.

Los mapas se basan en mediciones de altimetría hechas por el OSTM / Jason-2 satélite y analizadas por los científicos del Laboratorio de Propulsión a Chorro de la NASA.

A continuación puedes ver una animación de los mismos datos a partir del 1 de enero hasta el 31 de julio de 2015. Nota cómo pulsos de agua más caliente parecen moverse de oeste a este a través de la cuenca del Pacífico.

Hay una sutil señal en enero, y luego cada vez más fuertes impulsos en marzo, mayo y julio....."
El Niño conditions are growing stronger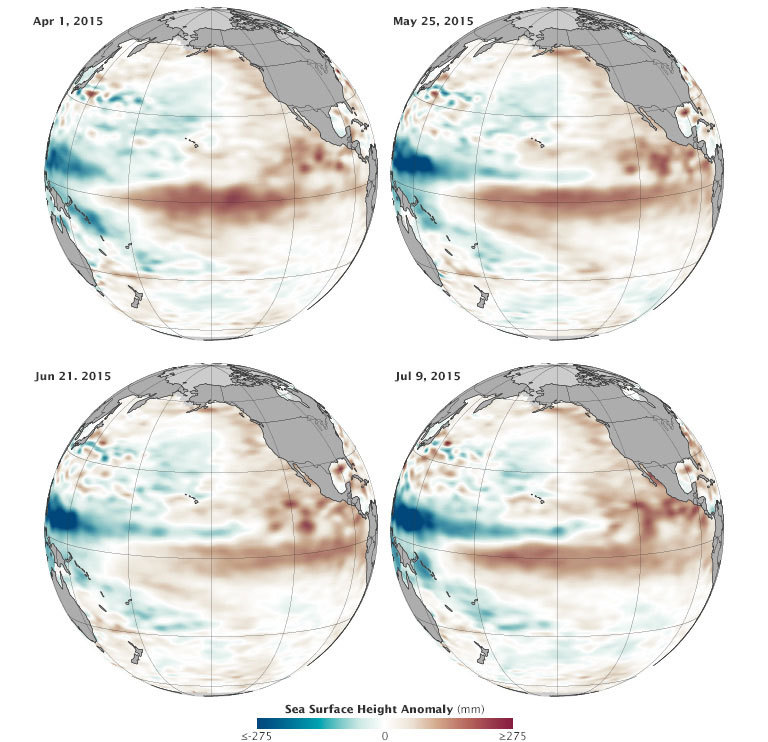 "We have not seen a signal like this in the tropical Pacific since 1997," said Bill Patzert, a climatologist at NASA's Jet Propulsion Laboratory. "It's no sure bet that we will have a strong El Niño, but the signal is getting stronger. What happens in August through October should make or break this event."
Below you can see an animation of the same data from January 1 through July 31, 2015. Note how pulses of warmer water seem to move from west to east across the Pacific basin. There is a subtle signal in January, and then increasingly stronger pulses in March, May, and July.
"Sea surface temperatures in the eastern Pacific have been waxing and waning," Patzert said. "Right now they are waxing." But will sea surface conditions and winds amplify the warming signal and produce an El Niño to rival 1997–98?
NASA
Guillermo Gonzalo Sánchez Achutegui
ayabaca@gmail.com
ayabaca@hotmail.com
ayabaca@yahoo.com
Inscríbete en el Foro del blog y participa : A Vuelo De Un Quinde - El Foro!